Holistic Healing – Treatments – Workshops – Retreats

Flower Essence Therapy
I offer therapies with beautiful flower essences from the NZ First Light Range

Aromatouch Treatments
Aromatouch essential oil treatments are an incredible way to enhance well-being and to re-balance.

Rahanni Healing
Lizzie is a practitioner and teacher of Rahanni 5D celestial healing.

Tropic products
I work with Tropic Skincare products. Book a facial with me or a pamper in the luxury of your home.

Hot Lava Shells
Generally used in combination with an Aromatouch technique – a wonderful way to experience a deep level of relaxation

Shamanic Workshops
Experience my series of 6 standalone shamanic workshops. Learn a variety of strategies for self care.

Journalling
While taking essences or participating on a workshop/ day retreat – I encourage journalling.

Ceremonial Cacao
Beneficial for cardiovascular health, increased clarity, focus. Enhances the feeling of love and connection.
"feet on the earth
connect to your soul
look up to the sky
see the light
feel the freedom of new air
ignite your fire,
release your tears
allow mother earth to absorb your pain
know you can begin again"

Lizzie Nicolson
Master Shaman

Welcome and thank you for visiting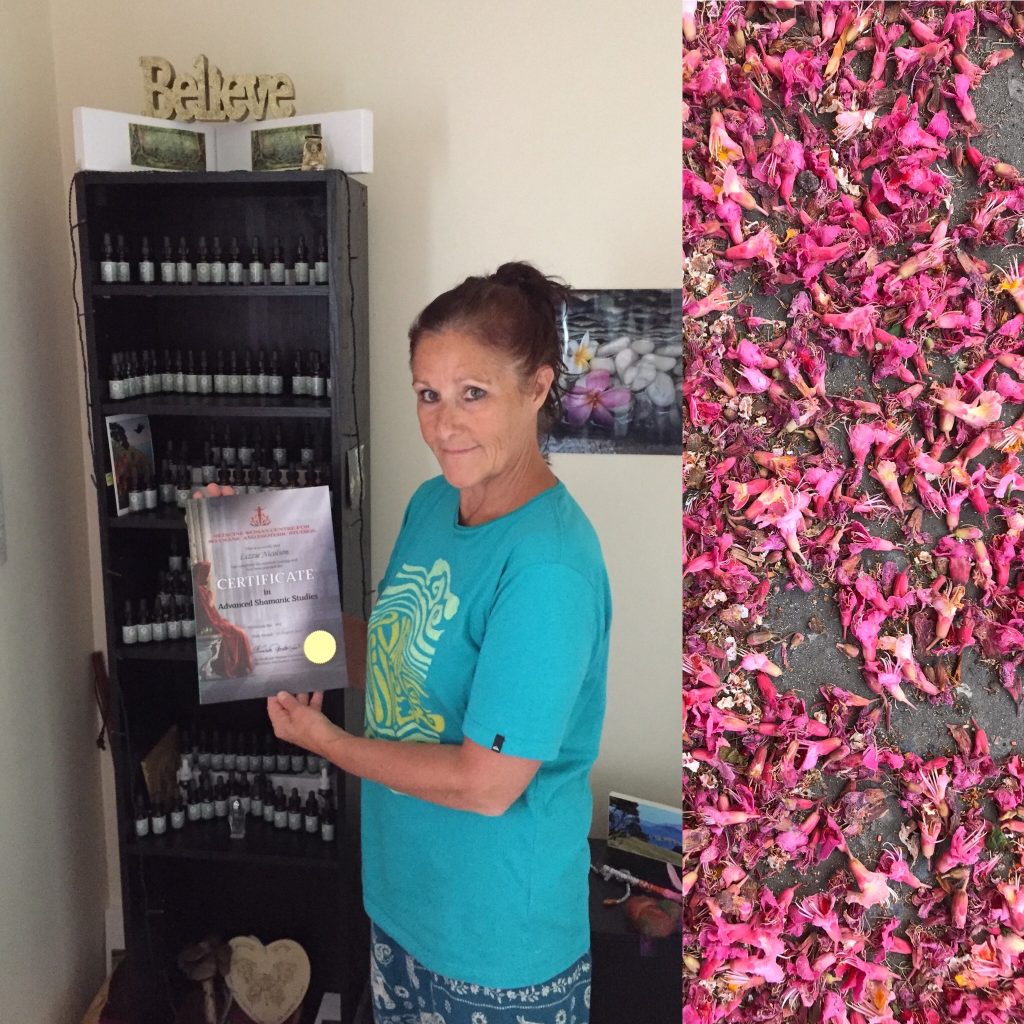 Hello, I'm Lizzie the owner and operator of Essenze Therapies. I am passionate about health and using natural plant products. I have just returned to New Zealand after living in the UK for the past 10 years, working in western medicine settings as a senior occupational therapist, running retreats, plant medicine workshops, and one to one healing sessions with people from all walks of life.
My career in health spans more than 22 years, and covers knowledge of rehabilitation, anxiety management, mindfulness, basic nutrition, aromatherapy, flower essence consultations, shamanic and relaxation treatment.
Your initial consultation is FREE – we will establish a therapy plan based on your needs. Therapy includes a variety of techniques, and you will occasionally have activities to complete, following our sessions.
I encourage you to journal while journeying with the essences. I offer a free check-in/review while you are taking your blends, which can be done via phone/text/email or in person.
I would be honoured to work with you!
Essenze Therapies is for:
Those who are in emotional pain – through grief, trauma, relationship breakdown, 'feeling stuck in life', wanting a new direction, or simply wanting to connect to your destined pathway.
Those who wish to experience relaxation or learn about the techniques I use in my workshop settings, small classes or on a 1:1 basis.
Those who realise there is more than the 3D dimension we generally operate in on a day to day basis, and wanting to understand their life from a deeper perspective.
My therapies and products are safe for children – older adults and all ages in between, to use.
Sometimes I may need to refer you on to a more appropriate service should the need arise.
Workshop attendance is a chance to deep dive into your world, gain insight and knowledge and experience guided meditation, creative work and shamanic practices.