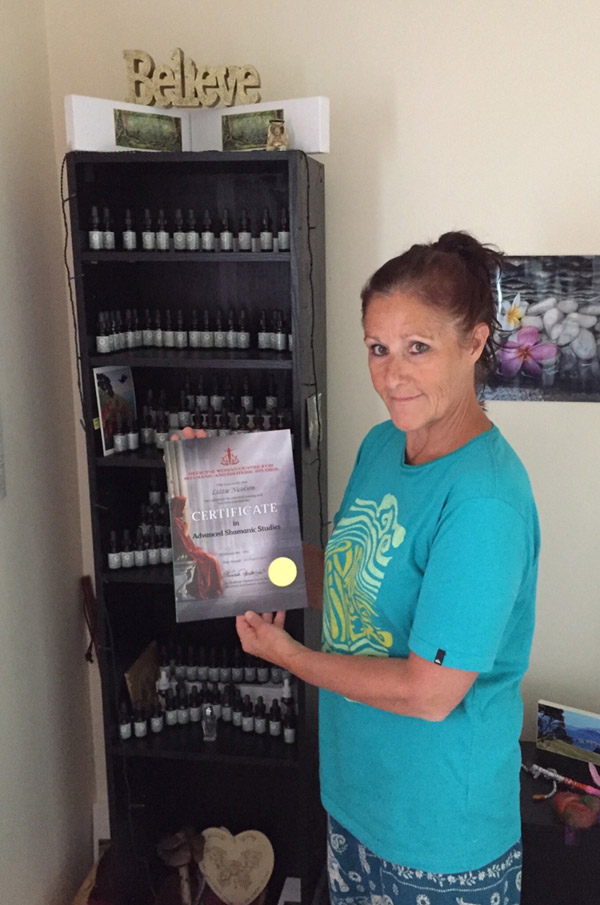 About Lizzie
Having initially trained as an Occupational Therapist, my training encourages people to be seen through holistic eyes – therefore it was a natural progression to incorporate the mind body spirit approach to my work.
Travelling the world, a deeper curiosity grew from my time in India, and more especially South America. Spending time with Shamans, and a variety of modalities my beliefs and Shamanic practices deepened.
My life long passion with nature and all things natural of course became entwined in my therapies. All my work has a theme of attuning through the heart chakra, you will experience this in all the modalities I offer.
The underlying mission ingrained in my work is encouraging those, through my guidance, to connect to their own inner guru.
Retreats and workshop attendance magnifies the learning experience. Group learning allows for a deeper experience to occur- shared wisdom in these settings can be very profound. Through my own personal experiences of retreats and taking plant essences my life became so much more meaningful. Self knowledge created a more empowering way to live. I started to attract more wise souls into my life.
In essence, my life became more enriched.This propelled me to begin a more formal certified training as a Shaman/Medicine woman through the NZ First Light schools – Franchelle Ofsoske Wyber and Tony Wyber's award winning, state of the art teachings and cyber schools. Life has become more rewarding on so many more levels.
Alongside learning ancient wisdom, our training involves deep meditation practice as well as taking First Light® teacher plant essences – often called the 'warrior plants' Shamanic range – treatment and stock strength. Essences remind us of old memories that need to be accessed. By accessing deep memories we often make links to our experiences – the sought after 'Aha moments' which in turn deepen our spiritual knowledge and practice.
Through releasing trauma from our systems we can experience better health and increase our clarity of thought, emotion and belief systems.
I soon became a registered First Light Practitioner, Shaman (24 months) then Master Shaman (further 2 years), Medicine woman, Registered Practitioner (DipNZFE). Training involves an intense day/night monitoring of our thoughts, emotions, beliefs, and physical health – not for the faint hearted – it involves a great deal of discipline to understand our patterns – release old trauma and, in doing so, achieve deep spiritual insights.
My work is my passion. I have been honoured to work with people from all walks of life – health professionals, yogis, reiki masters, shamans who have all witnessed/experienced dramatic changes in their lives through taking recommended blends.
The true 'gold' of my work is seeing those connecting more fully to their lives, recognising and releasing patterns of operating that no longer serve them, transcending emotional pain to walk forward to a more positive life.